Amazing Roof Washing in Burnaby.
Safe Methods, Proven Results.
Roof Washing and Roof Moss Removal.  You Will See The Difference!
Get An Estimate
(604) 944-9972
Providing You Awesome Roof Washing in Burnaby.
If moss, algae, and fungus are left to grow on your roof, it can cause thousands of dollars of damage to your home.  If left untreated for too long, the roof will need to be replaced early.
We use a safe roof washing method, which is a low-pressure roof wash or soft wash. This roof washing method ensures all the moss, fungus and algae are destroyed without damaging the roof itself.
It will take at least 2 to 3 yrs before you will need another roof washing service for your home.
Either way, you can rest assured that we will provide your roof cleaning project with the most professional and highest quality results, ever.
Why Roof Washing in Burnaby?
Getting a roof washing treatment done for moss removal is one of the best things you can do for your home.  It's safe for all animals, family, your home, and the environment.  
Roof washing is using a low-pressure technique with a special mix of environmentally conscious chemicals that remove moss from your roof without causing damage to either the home or the roof itself. 
This method has been proven to be the most effective means of making sure your roof lasts for as long as it's supposed to last.  Once we've completed the roof cleaning, we apply a solution to the roof that helps prevent the regrowth of moss to your roof for up to 2 years or longer.
If your roof is in need of a roof wash, don't wait too long and prevent unnecessary costs to repair or replace your roof.   Give us a call or get a free, no-obligation estimate today.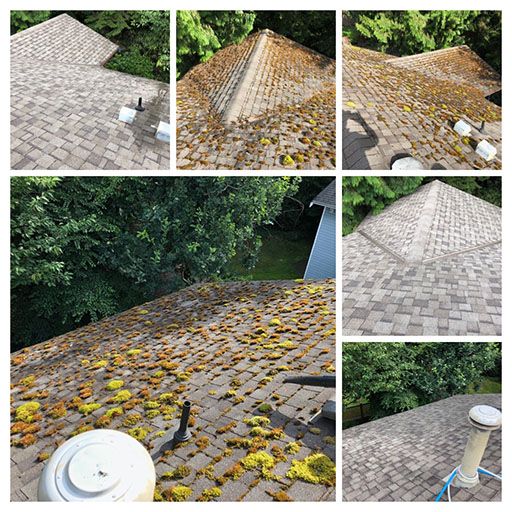 What You Can Expect From Us
Trusted & Experienced
We have more than 25 years of experience in the industry. We may not be "older than dirt", but we know how to deal with all kinds of it! With a proven track record of being a trusted business in the industry, you can be confident that we are up to date with today's newest rof washing methods and technology in Burnaby.
Reliable
When you make an appointment for your roof washing service, we show up for it on time and ready to go. If for some reason, we can't make it like due to bad weather, for example, we will notify you in advance. You can always count on us to give you the best in roof washing in Burnaby!
Value
You get what you pay for. If you're simply looking for the lowest price, we're not for you. If it's quality that you're after, then look no further. ClearView offers you the best cleaning experience at a reasonable and competitive price.
Satisfaction Guaranteed
Our #1 priority is your complete satisfaction.  From your first experience with us until the job is done, our goal is to provide you with the respect you deserve.  We are a customer service business that just happens to provide roof washing in Burnaby!
Our Roof Washing Process
Your roof wash comes with a guarantee.  We provide a 2 year Roof Wash Guarantee that if any moss, algae or mold returns within 2 years of your initial roof wash, then we will come back and retreat the affected areas free of charge.
Physical Inspection
The first step is a physical inspection of your roof and if a full roof wash is required.  Your Roof may just need a roof treatment instead to prevent the onset of growth.
Option A: Roof Washing
If a Roof Wash is determined to be the best course of action, then the roof is given a deep blow to remove as much of the debris and moss from the roof as possible. As part of that process, all the gutters are also blown out. We then make a mix of the cleaner used for your roof that is designed to not only kill the moss, algae, and mold but to also help to bring out more of your roofs original colors bringing it as clean and healthy as possible. The time now goes into our low-pressure method to remove all the dead moss, algae and mold from your roof.
Option B: Roof Treatment
If a Roof Treatment is determined to be the best course of action then the roof is given a blow to remove any surface debris. Once this is done, then we apply our cleaner mix to your roof. Immediately, you will see the color coming back to the roof as the organic material that discolors your shingles or tiles is killed. Any moss or organic debris that remains is now dead and mother nature will naturally remove it over the next few weeks and months.
Trusted By People, Like You
GET AN ESTIMATE TODAY
Providing you with the best experience possible, we will work with you to ensure you get the best service.  Trusted by your neighbors, you can be sure you'll get the best exterior house cleaning service anywhere, guaranteed!  To request an estimate, just click the link below or simply call our office at